A dark force is haunting this quiet, suburban neighborhood.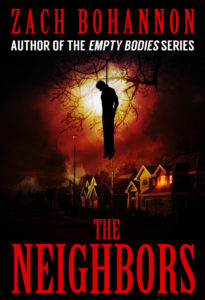 Overview
Lakewood Drive is a quiet street in a calm, suburban neighborhood. Kids run around and play outside. Neighbors wave at each other in passing. And barbecue grills fill the Summer air with the inviting smell of charred meat.
Everything is peaceful until one morning, a beloved teenage boy commits suicide, sending a shockwave throughout the community.
Three houses down lives Spencer Robinson. He has a wife, a toddler, and a good job. Overall, he's a happy guy who loves his life and keeps to himself.
But something evil has come to Lakewood Drive.
The tragic loss of Spencer's teenage neighbor is only the beginning. Soon after, death strikes again on Lakewood Drive.
And it's coming for him next…
"The mind of Zach Bohannon must be a scary place. Every book of his I read surprises me with new and interesting concepts, and The Neighbors is no different." – Robert Pettigrew (Amazon reviewer)