Dawn: Final Awakening Book One is out now!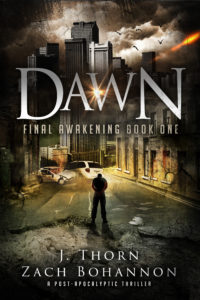 I'm really excited to announce that Dawn, the first book in the Final Awakening trilogy, is out now! This book was co-written with my good friend and fellow bestselling author, J. Thorn. We worked on this book for several months and are very happy to announce its release!
When the Blackout arrives, Dax Harper finds himself alone and fighting for survival on the chaotic streets of New Orleans. He is on the run, desperately searching for his estranged sister as the riots intensify. An unexpected encounter with his ex-girlfriend thrusts Dax into a leadership position—one he's not sure he can accept. As the hours pass, the city floods, pitting Dax in an epic battle against time and a mysterious new enemy threatening the future of humankind.